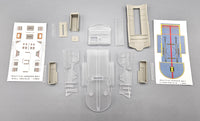 ---
The 1:350 Refit -A Shuttle Hangar Bay is back!
For the first time in almost four years, and back by popular demand, the DLM Parts' -A Shuttle Hanger Bay Kit is back!  This highly detailed kit was crafted to duplicate the hangar bay as seen in STV: The Final Frontier, and is used in-lieu-of the the TMP hangar bay parts in the Polar Lights® 1:350 Constitution Refit model kit. 
This kit is comes made with 14 parts, cast in both opaque gray and clear parts for easy lighting and light blocking. A further step in lighting capabilities is a version of the walls cast in clear resins to show lighting of control rooms and wall mounted lamps. Side alcoves of the bay are open and visible and can also be lit, plus an option of an open door leading to the cargo bays.  New improvements to the kit are two newly designed sheets of highly detailed decals for both the floor and the walls.  Also new is a CLEAR cast floor for those who wish to light the landing strips. No Constitution Refit-A Starship model will be complete without this kit!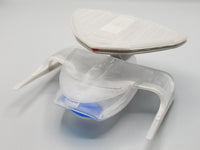 ---
NEBULA CLASS CONVERSION for the AMT/ERTL 1:1400 GALAXY CLASS MODEL
After much demand, the DLM 1:1400 Nebula Conversion kit is back!!
This kit is crafted for making a lighting capable model with optically clear and gray opaque resins. The gray resin parts are tooled so that the builder will be able to route wiring and install electronics systems inside the model. Kits are availale in both Clear and Opaque.
Due to the anticipated high demand, I ask only ONE kit per person initially, until everyone who has been patiently waiting can get one.
Because of the high demand for this kit, and the fact that these kits are being made on demand, PLEASE allow at least 3 to 4 weeks to process prior to shipping! When your kit ships that is when you will receive a tracking number.
Kits cast in clear & opaque: $135.95
Kits cast only in opaque: $123.95
Originally produced by Don's Light and Magic.
---
**New and Featured Items**
---
need a model to go with these parts?
Check out CultTVman's website!
https://www.culttvmanshop.com
---
looking for photo-etch?
My friend Paul can help at the below link:
PARAGRAFIX
https://www.paragrafix.biz/
---
HOW ABOUT DECALS?
G-Cals can help!
https://g-cals.company.site/
YELLOW RESIN NOTICE:
It is an unavoidable certainty that clear resin will eventually start to yellow over time.  There are, however, things we can do to help prevent it.  For starters, I now use a crystal clear epoxy resin that is resistant to scratches, with a UV stabilized formula that helps protect against yellowing.  Another way to keep clear parts clear is to keep your model away from light sources like windows; fluorescent lighting is also especially destructive (in more ways than one) and will speed up the yellowing process.  IF, however, it seems like some of your clear parts are yellowing prematurely then it may be because of the crappy Alumilite resin I used early on, which is my bad. In that case, please reach out to me!  All I ask is that you send me a picture of the yellowed part and I will be happy to send a new replacement, free of charge.