---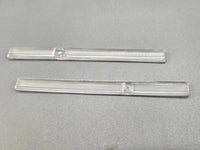 These clear inboard warp grills are now available for the AMT® Classic Starship model for modelers who wish to light the warp nacelles of their starship model! This was originally intended for the "series" version of the studio filming model, but due to the tight shoestring budget the show operated on it unfortunately never happened.
Most parts are MADE TO ORDER.  Please allow at least 5-7 days to process prior to shipping.
These parts are placed into the model by cutting and converting the original plastic kit.  Certain areas of the kit must be cut away to install the new clear parts.