---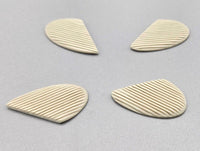 These resin parts correct the inaccurately shaped Magnatomic Flux Construction Grills on the Polar Lights® 1:350th scale Constitution Refit model kit. These parts are the semi-oval dark copper grills located towards the front of the warp nacelles. 
Parts are installed on the model by cutting and converting the warp nacelles of the plastic kit.  Certain areas of the nacelles must be cut away to install the new parts.
Most parts are MADE TO ORDER.  Please allow at least 5 days to process prior to shipping.
Originally produced by Don's Light and Magic, with improvements.